Along with his engraving work on firearms, Roger has also built two fully functional miniature guns himself. As a trained gunsmith, Roger has worked on both full-size and miniature firearms, doing both restoration work and full builds. 
1/2 Scale 1896 Bergmann Pistol
After working primarily as an engraver for over 30 years, as well as decorating and restoring the finish on many fine guns, Roger decided to use his gunsmith training to full advantage. He decided to take on the project of making a gun of his own entirely from scratch. The photos below detail the construction of a 1/2 scale miniature version of a rare 1896 Bergmann 6.5 mm pistol.
It started when Roger got the opportunity to restore the full-size version of this unique weapon to it's original condition. Corrosion had eaten into much of the metalwork, almost completely erasing the fine engraving and silver inlay work on parts of the presentation gun. Restoration involved filing down the corroded parts and re-scribing the engraving as he went, until all the surfaces were smooth again.
Once the surfaces were smooth, the original engravings and silver inlaid patterns were restored. Because of its special purpose as a presentation gun made for an honored individual, rather than for normal firing, it has been engraved and inlaid in places not normally decorated. This made the process even more difficult. The undercutting needed for the silver inlay process is difficult enough on a full-size gun, but the model duplicates the same patterns engraved at half-size. The full-size and matching miniature engraved pistols certainly make an interesting pair. Photos below follow the construction process for this miniature.
All engraved designs shown are copyrighted by Roger Ronnie and may not be copied or reproduced in any form without written permission.
Roger Ronnie's miniature gun projects validated Joe Martin's original intention when he started producing the Sherline miniature lathes and mills. It was his intention to produce relatively inexpensive, small machine tools that would be capable of producing complicated precision projects on a kitchen table—or in a small home shop. Roger's projects shows that if you have the skill and determination, you don't need to make a huge investment in tools. 
1/2 Scale 1910 Lefever "Thousand Dollar Grade" 10-Gauge Shotgun
For this project, Roger reproduced a 1/2 scale 1910 Lefever shotgun based on photos of an extremely rare original. This unique model is a Lefever "Thousand Dollar Grade" 10-gauge double-barreled shotgun. It was intricately engraved by one of the best gun engravers of the era. 
Not knowing exactly what he was looking at when he first took the photos, Roger was able to get detailed shots of the rare gun many years ago. He was mainly documenting the masterful engraving work. After successfully reproducing the Bergmann pistol, Roger decided to take on this project next. Working entirely from his scaled photos of the original shotgun, he was able to reproduce a perfect working model.
Then, the hard part began—replicating the original engravings at half-size. Initially, Roger had considered making the gun at 1/3 scale. He noted that making the shotgun at that size would have been slightly more difficult, but possible. The engraving, however, is so detailed that reproducing it at half-size has been the most difficult task Roger has ever attempted.
Ultimately, he's glad that he chose 1/2 scale instead of 1/3, as some of the details are barely visible. At 1/3, much of the engraving would have been physically impossible to replicate. Even if it were possible, it wouldn't be visible without magnification and perfect lighting.
About the "Thousand Dollar Grade" designation: The "$1000 grade" was what Lefever called their top-of-the-line gun, and it was by far the most expensive American shotgun you could buy in 1910. Their "Optimus" grade listed for $400.00, which was still a princely sum, and Parker's best shotgun, the "Invincible" sold for $750.00. (Keep in mind that in 1910 the average wage was less than $0.20/hour, or about $400.00 a year.)
Some of the Lefever shotguns were known to have barrels made from high quality Damascus steel, which was quite beautiful. However, because each one was essentially made piece by piece to the customer's specifications, any guns that were purchased for actual use were often made with stronger Whitworth fluid steel barrels.
Only a few of the Lefever $1000 grade guns are known to exist, and collectors must watch out for fakes. Fancy engraving on one of their more common guns could fool the less knowledgeable collector into thinking it is one of the rare models. Roger's model is probably as close as many people will ever come to being able to appreciate the beauty of this rare gun in person. Reproducing the gun in miniature added another level of difficulty to the project. Roger's craftsmanship is a fitting tribute to one of the best of the best, and rarest of rare in the world of guns.
More detailed photos from the 1/2 scale Lefever Shotgun project can be seen below. Additionally, an article in the Miniature Arms Newsletter from April, 2008 features Roger's miniature Lefever shotgun.
Engraving the Miniature Lefever Shotgun
The following photos detail the engraving process for the 1/2 scale Lefever in greater depth. Some images are repeated from Roger's engraving page, but the rest of the finishing touches for this remarkable scale firearm are also included below.
This section is sponsored by: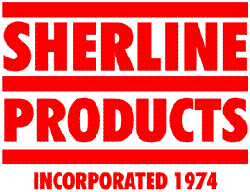 Makers of precision miniature machine tools and accessories. Sherline tools are made in the USA.
Sherline is proud to confirm that Roger Ronnie uses Sherline tools in the production of some of his small projects.