The Miniature Engineering Craftsmanship Museum in Carlsbad, CA
Hundreds of woodworking and metalworking projects exhibiting outstanding craftsmanship at the small end of the size scale.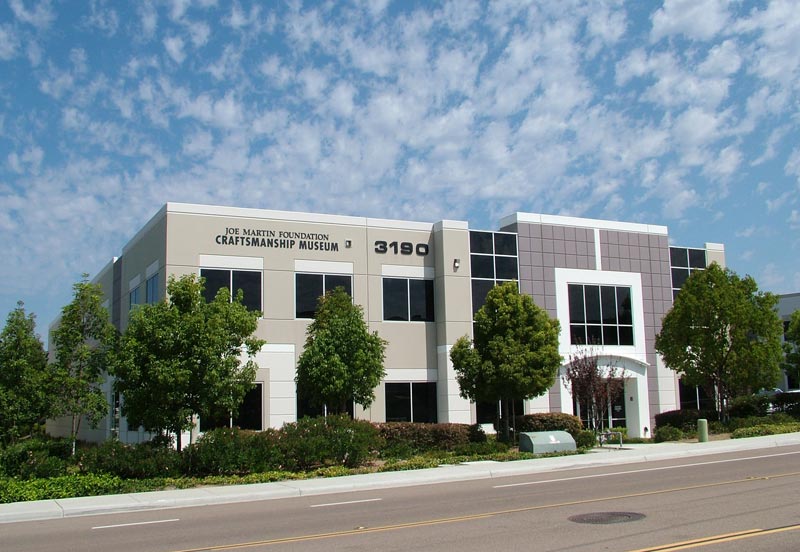 Museum Overview
The Miniature Engineering Craftsmanship Museum (MECM), a 501(c)(3) organization, honors the work of craftsmen worldwide. We maintain a growing collection of excellent craftsmanship projects at our location in Carlsbad, California. The museum opened in February of 2011, and was made possible through the Joe Martin Foundation. Joe wanted to encourage and reward fine craftsmanship, so he started the foundation in 1997 with a personal donation. He then began setting out a vision for what would become MECM. Over time the museum has only continued to grow, and today it boasts a range of exhibits honoring craftsmen from around the world. The facility also includes a well equipped machine shop manned by local craftsmen. Our book and magazine collection features titles by some of the top craftsmen, and it also includes texts on the use, care, and history of tools. Our facility is fully handicap accessible, with a wheelchair ramp from the parking lot and all displays on the ground floor. Additionally, our website hosts an assortment of unique projects along with profiles on featured craftsmen. Groups and clubs are welcome, but we appreciate a heads-up for any groups over 10 people. Tax deductible donations are gratefully accepted, Federal Tax ID No. 93-1221845.
The Miniature Engineering Craftsmanship Museum
Hours of Operation
Thursday through Saturday, 9AM–4PM (Closed Holidays)
The museum is closed Sunday—Wednesday, and major holidays including: July 4th, Thanksgiving Day, Christmas Day and New Years Day.
Admission: Free
Please use CAUTION when leaving the museum parking lot. It's difficult to see around the curve onto Lionshead Ave. The speed limit is 50MPH and vehicles often exceed it.
Group Visits
If you are a member of a club, special interest group, local company, senior organization, or other group, consider making the Miniature Engineering Craftsmanship Museum a destination for your group. The museum is a great stopover for any group interested in seeing the creations of accomplished craftsmen from around the world.
Children at the Museum
Children under 12 must be supervised at all times by an adult. The displays are oriented more toward adult interests, and the display cases are raised for easy visibility. Displays are not generally of a nature that would appeal to most young children. The museum can, however, be an inspiring place for young people with a desire to learn how tools are used and things are made (both historical and current).