A Selection of Jerry's Other Projects
Jerry Kieffer is a man of many interests. If you've already visited his pages on the Harley-Davidson models, John Deere tractor, and so on, it's evident that Jerry has mastered many areas of expertise. In addition to that, he also does some gunsmithing work, and is making a repeater watch from scratch. While we hope to eventually feature those projects here, Jerry has produced a number of other impressive works—many of which can be seen below.
The world record holder for "World's Smallest Steam Engine," according to The Guinness Book of World Records, is the "Thumbnail Steam Engine" built by Iqbal Ahmed in Nagpur, India. Iqbal is also one of our featured craftsman, and a Lifetime Achievement Award winner. However, the following engine built by Jerry Kieffer is smaller, lighter, and has a flywheel built with a hub, rim and six individual spokes.
Jerry makes the spark plugs for his engines with the same attention to detail as the rest of the model. The plugs pictured below represent four different types of prototype spark plugs, each built at small scale. Referring to the spark plug on the left in the first photo, Jerry said, "The first one is a 1/4 scale Rentz 775 spark intensifier spark plug." It was designed to give a hotter spark when starting a farm type engine (or others). The engine could be set back to normal spark after starting. The process involves first opening a gap in the glass area before starting. This means that the coil has to build up enough spark to jump the upper gap, as well as the normal gap in the combustion area. This produces a much hotter spark in the combustion area when starting. After the engine starts, the upper gap can be closed for normal running operation, which reduces coil overheating, etc.
In order to be able to make proper cams for his running engines, Jerry designed and built this camshaft grinder. He used the cast iron base from a discarded table saw. The Federal dial indicator was a $10.00 flea market purchase. The rest was made from bar stock. The power is supplied by the headstock/motor/speed control from Jerry's Sherline lathe. The total cost to build the cam grinder was under $60.00, not including the Sherline power unit. Jerry can grind just about any model engine camshaft with this machine.
This section is sponsored by: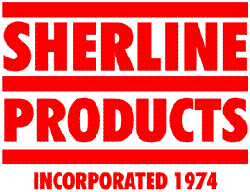 Makers of precision miniature machine tools and accessories. Sherline tools are made in the USA.
Sherline is proud to confirm that Jerry Kieffer uses Sherline tools in the production of his small projects.