Model Engineering Excellence in India
Recipient of the 2012 Joe Martin Foundation Lifetime Achievement Award
Working in relative isolation, this model engineer from India has proven himself as a master craftsman, winning one of the world's foremost miniature machining contests.
Setting the Foundation With an Early Knowledge of Engines
Iqbal Ahmed was born in Nagpur, India to a wealthy family. His grandfather was in the insurance business, and when automobile insurance became mandatory his business expanded in the region. After claims were paid on cars, Iqbal's grandfather would purchase the less damaged vehicles from wrecks, and then renovate them for resale. He would hire mechanics for the repairs, and young Iqbal was able to observe this work. Through this process, Iqbal was able to ride around in many different types of cars, which fueled his interest in engines and general mechanics.
However, after Iqbal's father took over the business, the economic climate worsened. In order to make ends meet, his father purchased a lathe and set up a workshop to do repairs. Since he had no experience running a lathe, he hired a "turner machinist" to make parts.
Iqbal was able to watch this machinist make and repair parts like bushings, screws, and other worn pieces. Later on, the turner machinist would eventually leave the business due to even tougher economic hardship, and Iqbal had no other option but to leave school and return to his father's business.
Fortunately, Iqbal was able to use what he had learned from the former machinist to run the lathe effectively. After several years, he would also master other forms of machining using a "universal" machine. This machine allowed Iqbal to operate milling, drilling, shaping, gear bobbing, indexing, and other jobs using makeshift attachments. As his skill in precision machining increased, Iqbal was able to expand his range of work. He started making parts for photo copiers and other delicate machines, many of which didn't have spare parts available in the country.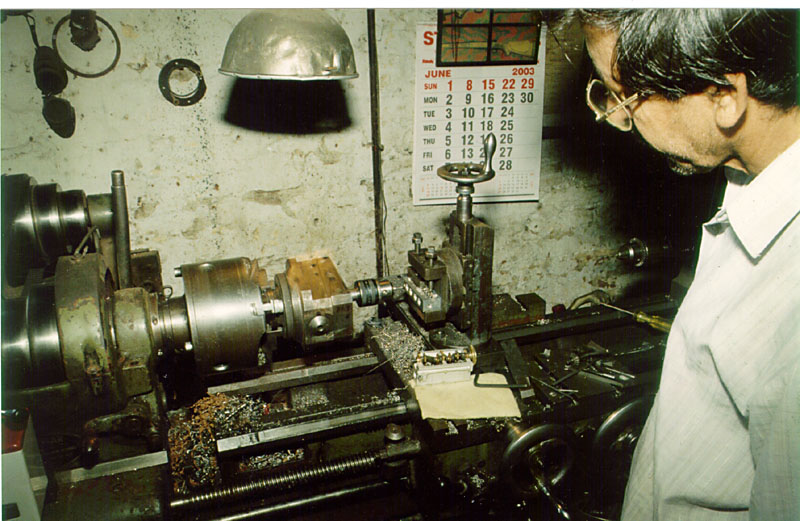 From Machining for a Living to Model Engineering for Fun
At this point, Iqbal had never even heard of "model engineering." However, a friend of his knew that Iqbal had a talent for machining, and brought him some books on model making from England. These books would spark Iqbal's interest in model engines. Soon after, he would scale down some of the available plans to make smaller versions of the engines from these books.
The project that Iqbal was working on at the time of this writing—a 4-cycle, 4-cylinder, water cooled, overhead cam, internal combustion engine—was inspired by the repair jobs he used to see in his childhood. While he had learned over time to recondition existing parts on engines, building one from scratch required a new set of skills for new challenges. Driven by curiosity, and willing to experiment and learn, Iqbal has taken the project to an advanced stage. The finished engine requires the production of over 250 individual parts, all of which must work together for the machine to run.
Working and Learning With Little Outside Feedback
Now, it's important to emphasize that throughout this time, Iqbal had to develop these skills largely on his own. He didn't have the nearby support of model engineers, clubs, or even easy access to publications which may have helped. Given the variety of his work, it's evident that Iqbal is willing to take on any challenge—from extremely tiny steam engines to very complicated IC engines.
It's a testament to his work that these engines all run. Even more impressive is that when looking at photos of his shop, it's clear that he has not been working with the most modern toolset. This is a true demonstration that craftsmanship comes from the craftsman, not the tools.
In April of 2004, Iqbal Ahmed received permission and an engineering grant from the Indian government to visit the NAMES (North American Model Engineering Society) Expo in Detroit. Unfortunately, a tight timetable and the slow diplomatic VISA process prevented him from arriving in America until a few days after the show had ended. He decided to come anyway, and stayed with his nephew in Milwaukee. Iqbal then traveled to California with his son, Arif, to visit Joe Martin and get a tour of the Sherline factory.
During his stay, Iqbal brought along several of his own projects for the foundation to see in person. His two-day visit was a great learning experience for everyone involved. After swinging by the factory, they were also able to tour the Antique Steam and Gas Engine Museum before returning to Milwaukee, and eventually back home to India. Iqbal would return to the NAMES expo in later years, showcasing more of his work and winning some awards of his own.
Taking First and Second Place in the 2007 Sherline Machinist's Challenge Contest
In 2001, Iqbal first entered the Sherline Machinist's Challenge contest with a small steam engine and boiler—neither of which placed highly. Then, in 2004, his small brass lathe with an electric motor took 3rd place. The following year, in 2005, his 4-cylinder internal combustion engine took 2nd place. Finally, in 2007 Iqbal dominated the contest, winning both 1st and 2nd place with his tiny scale models of a Sherline 5400 milling machine and a Sherline 4000 lathe.
These machines were clever choices to win the favor of the show-going public who did the voting. However, they didn't curry favor solely for their appeal as Sherline miniatures. More than that, they were superbly made and equipped with accessories like chucks, a rotary table, a tilting table, and a mill vise with rotating base. Winning these awards placed Iqbal in the company of some of the most exceptional model engineers in the U.S. Some of his Machinist Challenge winning peers have also been Craftsman of the Year winners as well. His winning entries are shown below, and the winning lathe is on display in the Craftsmanship Museum.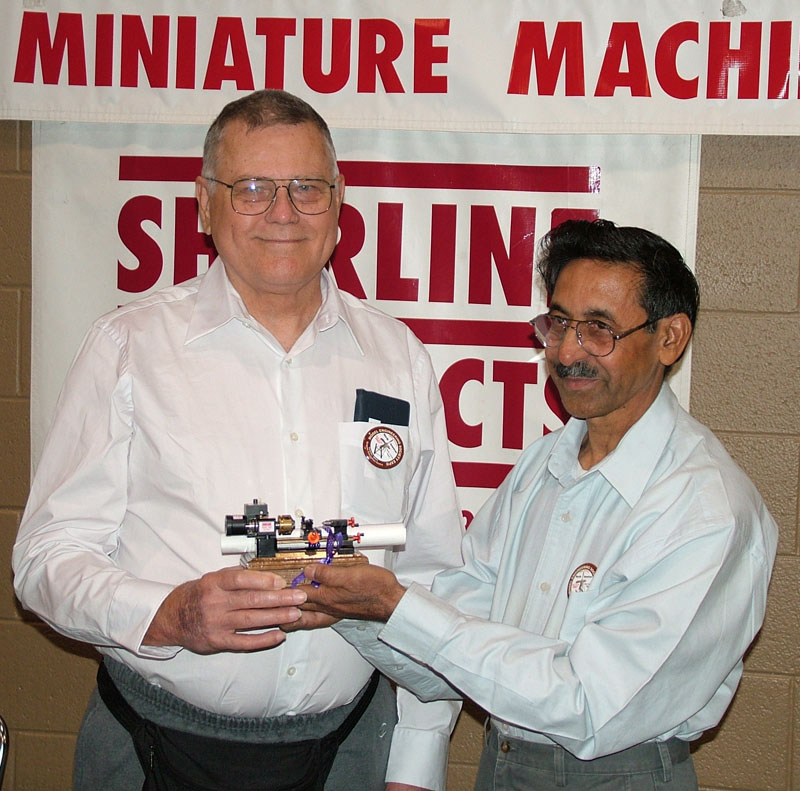 The tiny Sherline Model 5400 milling machine (pictured below) took top honors at the 2007 NAMES expo in Toledo, Ohio. It features a functional rotary table with chuck mounted to a tilting angle table. On the left of the mill table is a miniature Sherline mill vise with rotating base. The machine is mounted on a wooden cabinet with a pull-out door which reveals additional tools for adjusting the mill. After finishing 3rd in 2005, and 2nd in 2006, Iqbal was finally rewarded with a win in the 2007 Sherline Machinist's Challenge.
In the same year, Iqbal also made the tiny working model of a Sherline 4000 lathe (pictured below), which took 2nd place in the same contest. This was the first time anyone had ever swept the first two spots in the same year in the contest's 16-year history. Following the expo, Iqbal donated the miniature lathe to the Joe Martin Foundation for display in the Craftsmanship Museum, where it's now on exhibit. The second photo shows the lathe on display in the museum alongside other significant and interesting lathes of the past and present.
Ahmed Wins Award of Excellence for His Model of the Historic 1886 Benz Motorwagen
On January 29, 2011, Mr. Ahmed was presented an award from the Central India Vintage Automobile Association for the construction of a beautifully executed model of the first vehicle to be powered by an internal combustion engine. This special award was given in honor of World Automotive Day. The model is especially significant because Iqbal was able to duplicate the function of the engine, doing all the castings, machining, and assembly himself.
This model represented yet another massive challenge for Iqbal to overcome, because his machine shop was limited to a small Sherline tabletop milling machine. He did all of the machine work on that alone, and even made a special fixture so that he could do jobs that would normally be done on a lathe. More photos of the construction of this extraordinary vehicle can be viewed in the link at the bottom of this page.
Watch a video of the engine in action at the 2012 NAMES Expo.
Shortly afterward, Iqbal was awarded the Joe Martin Foundation Lifetime Achievement Award for 2012. This placed him in the company of some of the most prolific and dedicated model engineers in the world. For his lifetime pursuit of model engineering excellence, Iqbal Ahmed was given a certificate of achievement, an engraved gold medallion, and a monetary prize in December of 2012.
Additionally, we have received a large number of photos featuring Iqbal's extraordinary work. Because of this, we have provided more photos than normal as a teaching experience. Certain craftsmen set the standard in their area of expertise, and studying the details of their work can be helpful for anyone wishing to take their own work to the next level.