Below you can view more pictures of Fred's impressive models, along with some of the full-size boats he built. Click on images to enlarge.
1/2 Scale Construction Equipment 
Fleetwood Motorhome Model
Full-Size Boat Projects
Some of Fred's full-size boats are featured here. As a professional boat builder, Fred developed the skills that would later come in handy building his 1/2 scale projects. Below are photos and information on just a few of the custom full-size boats that Fred built.
2001 37' Offshore Runabout "Miss Packard"
2005 30' Offshore Runabout "Patriot"
The Patriot is a 30' custom-built offshore sports runabout. The hull has a 3 aerated step design, cold mold West system, and was constructed using one layer of 1/4 Ocume marine grade plywood, with Honduras mahogany planking on exterior.
Framing consists of mahogany. Decks are stained mahogany, West system (no screws). Finish is stained light mahogany. It was fitted with a new GM 540 ci,  620-HP engine, which has a new variable pitch Pulse Drive out unit with a Surface Prop. The interior features vinyl roll and pleated seats for five, twin bilge pumps, stereo radio, tonneau, and mooring covers. It also has a remote-controlled engine hatch cover. It rides on a custom-built Load-Rite twin torsion axle trailer, with 16" polished aluminum wheels. This is another one of Fred Heim's museum quality masterpieces. Fred has been building boats for 45 years, including several one-of-a-kind vessels.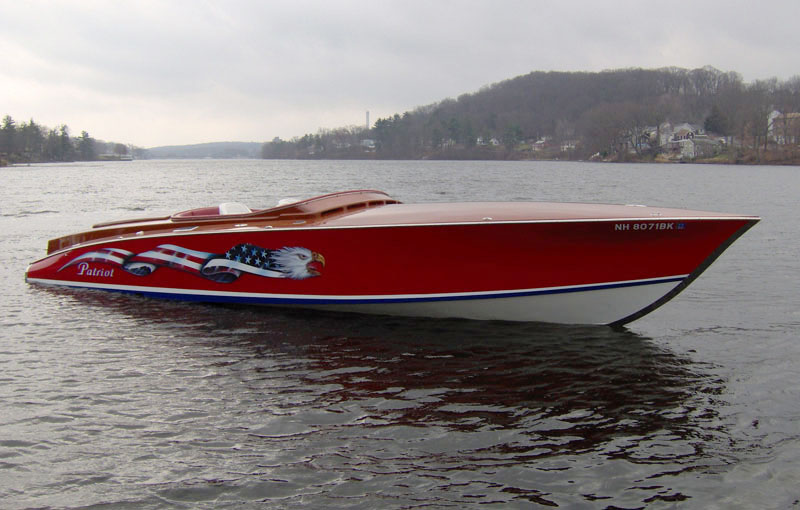 31' Fantail Launch "Rachel H."
The photos below show another one of Fred's retirement projects, a more traditional fantail launch design. The boat is named, Rachel H. in honor of Fred's wife. Fred submitted many photos of the construction process which can be seen below.
Stats for the Rachel H.—
Design: James Doe. Builder: Fred Heim. Length: 31′. Beam: 8′-3″. Weight: 7000 lbs. Power: Yanmar 20-HP, 3-cylinder Diesel. Speed: 7-8 knots. Capacity: Seats 13 people. Features: head, bow thruster, sink, refrigerator, full electronics, weather curtains, removable table.