Racecars and Cruisers at 5/8 Scale.
Introduction
While the Craftsmanship Museum features wood and metal projects in miniature, not all of the work exhibited is necessarily small. The term "miniature" simply means smaller than the original here; however, if the original is quite large, then "miniature" can sometimes be misleading. This is especially apparent when we look at the work of someone like Ernie Adams. Ernie prefers to scale down his projects to a smaller than normal size, but still keeps them large enough to be fully operational. The end result is particularly striking when the miniature is parked next to a full-size version. Like the 1/2 scale or larger models made by some of our featured craftsmen, Ernie's 5/8 scale models push the limit of what we call "miniature"—but their appeal is certainly no lesser for it.
Now, some people might ask why builders don't just make things full-size when they're already putting in so much effort. A modeler would probably argue that there are already enough full-size things out there, but how many miniatures are there? Apart from simply being unique, the task of making an entire automotive (or any miniature) work at a smaller size also offers an inherently rewarding challenge for craftsmen. The general point is that everyone who sees these models can appreciate their distinctive character, and the high level of craftsmanship required to make them—and that's what it's really all about.
Early Roots in Racing
In the world of short track racing, both "Dwarf" and "Legends" classes are popular events at tracks around the country. The cars featured in these races are smaller, and they tend to look like 1930's jalopies that are powered by motorcycle engines. They are fast, economical, and exciting to watch. The first small racers were called "Dwarf cars," and were invented by Ernie Adams of Maricopa, AZ.  Later on, a similar class utilizing different engines and fiberglass bodies was introduced. These cars were considered part of the "Legends" class. Both classes of cars are still raced today, and they owe their start to a project that Ernie and his friend Daren completed many years before. Prior to the development of these classes, Ernie had already become an experienced racecar driver. In 1971, he became champion of the Late Model Stockcar division at Whitehead Speedway in Nebraska City, Iowa. In fact, Ernie actually won every heat race, every trophy dash, and every main event that he drove in that year.
Then, in 1979, Ernie and his friend Daren Schmaltz were returning from a sidecar motorcycle race in Phoenix. While riding home, the pair considered that a small 4-wheel racer might have higher cornering speeds—and thus be more entertaining on a small dirt track—than the three-wheelers of the time. To test this idea, the pair quickly set about building two small cars. Within a month the cars were already well underway. Ernie's first car was patterned after a 1934 Ford Coupe, and Daren built one that looked like a 1933 Dodge Coupe. Both vehicles had a 73″ wheelbase and a 46″ height. The cars were also constructed out of steel. Ernie's model was powered by a 2-cylinder Honda 350cc engine, and Daren's used a Kawasaki 350cc 3-cylinder engine. 
When they first built the cars, there were no official plans to race them aside from recreational use. Interestingly, this Dwarf car wasn't even Ernie's first attempt at building a smaller racecar. Back in 1965, he had built a small cruiser based on a 1928 Chevy 2-door sedan. It was powered by a 13 HP Onan 2-cylinder engine, and Ernie used metal panels from old refrigerators for the body work.
Shortly after completion, residents of the Phoenix area started seeing the two Dwarf racecars being hauled around the area on trailers for testing. More frequently, people began asking where they could see the Dwarf cars race. Eventually, enough interest was generated that they decided to hold the first race in March of 1981. That race was more of an exhibition where Ernie and Daren ran a few hot laps on a 1/8 mile dirt go-cart track called Arrowhead Speedway, in Phoenix. However, it was so popular that more cars were produced shortly afterward, and a whole class for them was born.
The first official Dwarf car race was held along with a demolition derby at the Yavapai County Fair in September of 1983. The race consisted of ten cars out of Phoenix and one from Prescott, AZ. Ernie won the first heat, Daren won the second heat, Allen Neff won the consolation race, and Bob Rowe won both the trophy dash and the main event. This marked the beginning of Dwarf car racing, which would continue to grow with a number of manufacturers entering the scene.
A Second Racing Series is Born Based on Ernie's Design
After the Dwarf series came about, the early "Legends" series cars followed. These newer cars were built based off Ernie's Dwarf jigs, except they had fenders added. In 1992, Humpy Wheeler (President and GM of Charlotte Motor Speedway) and racecar driver Elliott Forbes-Robinson designed a fiberglass version of the Legend series. This later fiberglass model would still use the original 5/8 scale specs with a 73″ wheelbase, 60″ width, and 46″ height. However, the fiberglass bodies were easier to repair, and they allowed for the use of fenders over the wheels. In contrast, the all-steel Dwarf cars still ran with open wheels.
Ernie's 1942 Ford Dwarf Car was used as the official pace car for the last Dwarf car event. The race was held at Manzanita Speedway in Phoenix, which closed in April of 2009 after 58 years of racing. Forty-five different Dwarf cars registered for that last race. The pace car was driven by Daren Schmaltz along with co-founder of the original Dwarf Car Company, John Cain.
Miniature Cars for the Street and the "Grandpa Dwarf"
Now, it should be noted that the first Dwarf cruiser actually preceded the racers, and was built in 1965 from materials that Ernie had been collecting for several years. The model was a miniature replica of a 1928 Chevy 2-door Sedan. It was powered by an 18 HP motor, and Ernie built it using a homemade hacksaw, a hammer, and a chisel. Since he didn't have a torch, Ernie learned to fold the edges of the metal body panels and fused them with an arc welder. Not yet being able to form compound bends, he used the natural bends from panels off of early refrigerators for the car. This first model was aptly named "Grandpa Dwarf." In the late 1970's, Ernie then replaced the original solid rubber tires with pneumatic ones, added a top, and changed the original powerplant to a 13 HP Onan motor.
The "Grandpa Dwarf" weighs about 900lbs and features bucket seats, cloth interior, operational windows, and a vinyl top.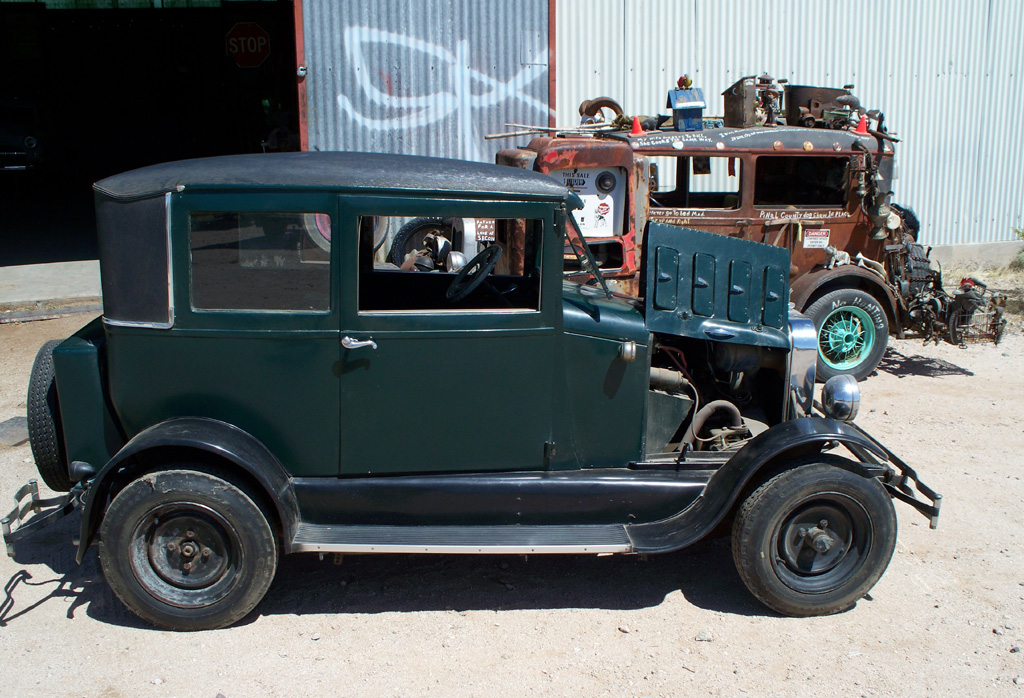 1939 Chevy Sedan
In the years to follow, Ernie's experience building Dwarf racecars would teach him a great deal about shaping metal. His next challenge was to build a street legal cruiser. He had remembered a 1939 Chevy cruiser from his hometown of Harvard, Nebraska that he admired. So he decided to build a miniature version of that car with moon hubcaps, fender skirts, venetian blinds and all.
By this time Ernie's tools now included a torch and wire feed welder, plus some benders and a bead roller that he built himself. He started the process of building the cruiser by looking at photos of the full-size sedan taken from all angles. His measurements were then scaled directly from the photos. The undercarriage used components from a 1972 Toyota that Ernie had found abandoned in an alley. Starting in 1990, he then spent 2-1/2 years from start to finish on the car, keeping the 12″ Toyota wheels and stock drivetrain. The car weighed a solid 1770 lbs and could cruise at highway speeds. Not just a showpiece, the car was on the road for over 15 years and clocked over 54,000 miles. The fuel bills were miniature too, as the car could get 35 miles to the gallon.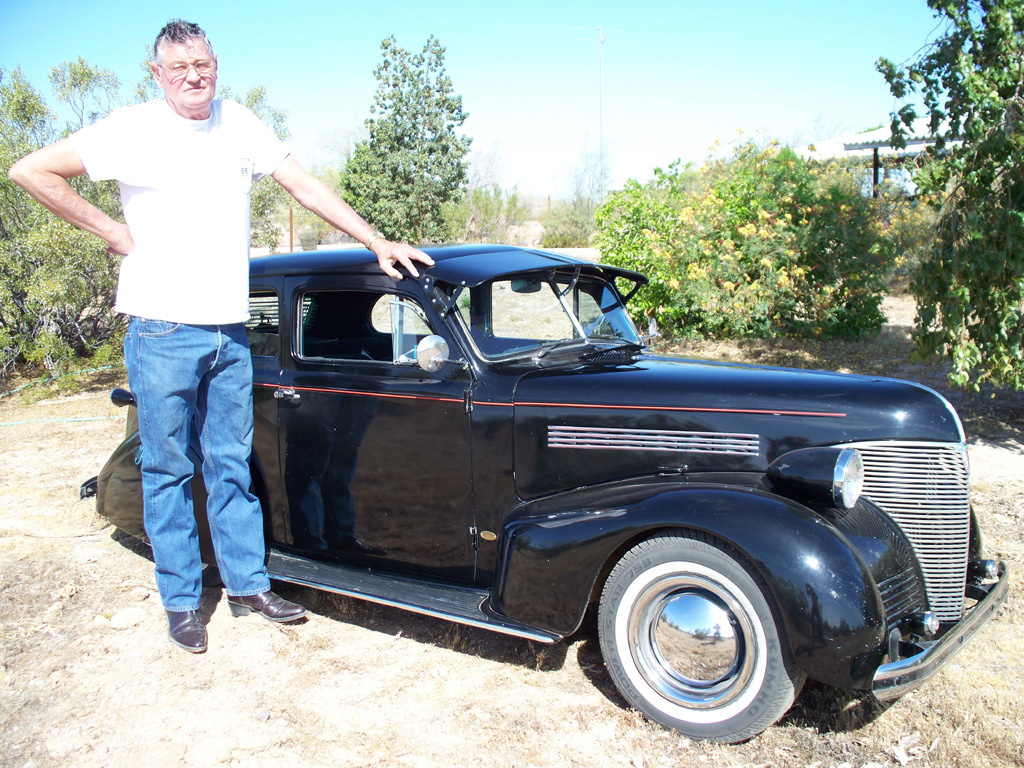 1942 Ford Deluxe Convertible
Having enjoyed building his Chevy, Ernie decided to follow it up by modeling another of his favorite cars. This time he chose a 1942 Ford Convertible, like the one he had seen in the 1957 film April Love. He especially liked the shape of the '42 grill and the convertible body style compared to later '46-'48 models.
Ernie started constructing the car in 1992 by using 1×2 rectangular tubing for the custom frame, and 20-gauge sheet steel for the body panels. Like his previous sedan, Ernie used the salvaged Toyota Corolla for the motor, drivetrain, steering, tie rods, and wiring on the convertible. The suspension would be a straight front axle, and a transverse leaf spring in the rear. The hydraulic top mechanism is fully operational. It took Ernie seven years to construct the '42, finishing in 1999. The vehicle was officially registered as a "1999 Homemade Car." In 2003, Ernie drove the car all the way from Maricopa, Arizona to Wauconda, Illinois for the Mid-Americruise. He then drove to Lincoln, Nebraska and back to Arizona while making several stops in between. Ernie's '42 convertible would go on to receive the "Editor's Choice" award from Rod and Custom Magazine. It features a cloth interior, heater, defroster, stereo, clock, and bucket seats. In terms of specs, the car is 11-1/2′ long, 50″ wide, 46″ high, and runs on an 80″ wheelbase.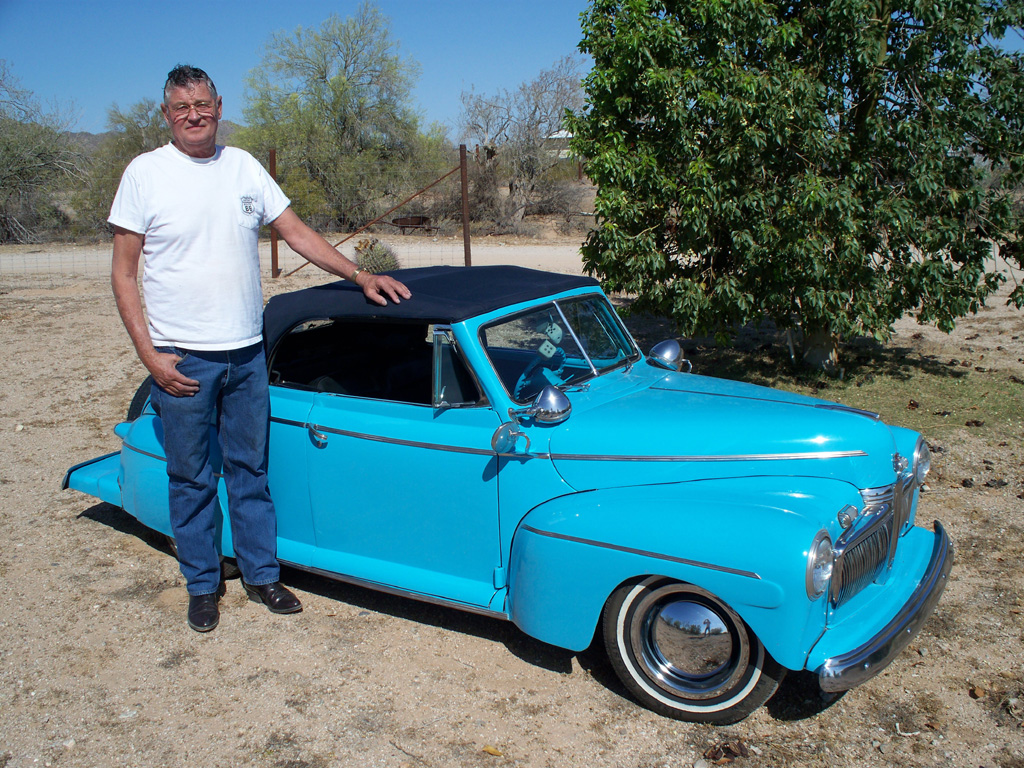 1929 "Hillbilly" Model A Ford
Years ago, Ernie met a man from Iowa who had a "hillbilly" car that struck him as very interesting. Then, later on he met a man from Missouri named Zeke who had two Model A hillbilly cars. Ernie liked the cars enough that he started thinking about building a smaller version of his own. Because he already had most of the materials on hand, Ernie was able to finish the car in a mere three months. He added some of his own antiques to give the car more of a "hillbilly" look. The car originally had a 2-cylinder Onan motor from a mail cart, but Ernie would replace that with a 1932 American Austin motor. The replacement looked much more like a typical Model A motor. It was a water cooled 4-cylinder that put out 13 HP. The "paint job" was achieved by taking the shiny steel car outside and hosing it down until an authentic rust finish had formed after about a week.
Ernie then added a handmade set of 12″ spoke wheels, and put on a vinyl top. Both of the side windows and the fold-out windshield are operational. The dash looks like the original, and Ernie used burlap for the seat covers. The car also has a suitcase trunk as well as tri-tone horns. It even has a miniature pot-belly heating stove, and authentic moonshine in the back. As word began to spread about the hillbilly car, people started donating their own antiques to be added to the vehicle. The addition of such antiques and trinkets remained an ongoing process as the car evolved.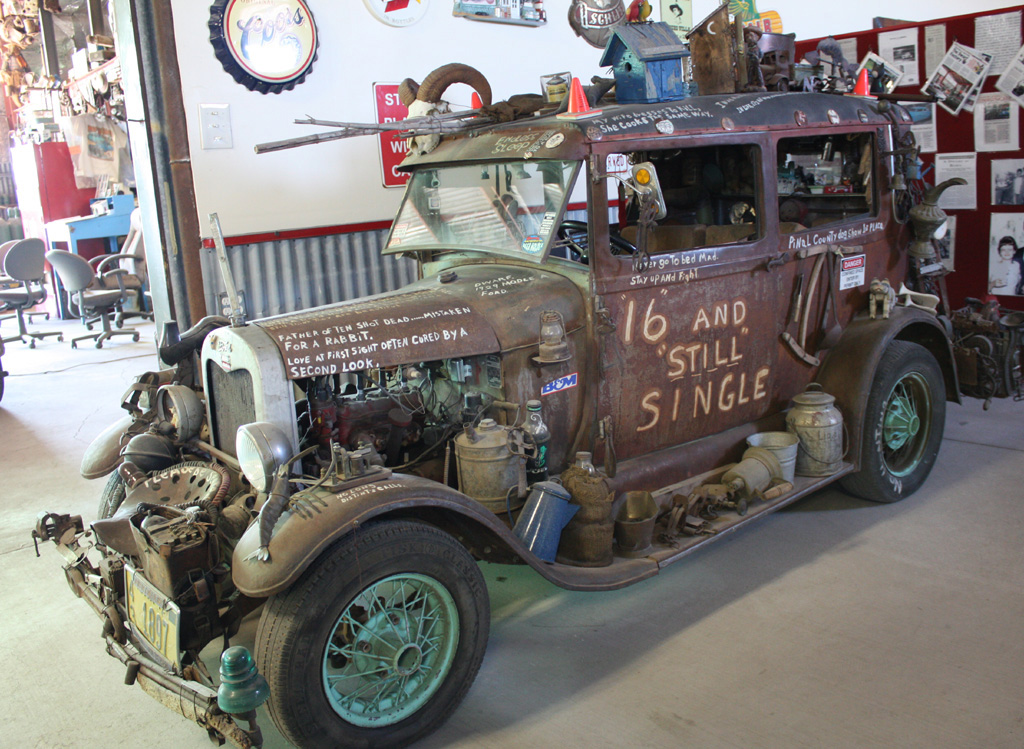 1949 Mercury "Rebel Rouser"
James Dean's movie Rebel Without a Cause made the 1949 Mercury an American favorite, and one of Ernie's too. He particularly liked the front grill, the 3-piece rear window, and the classy dash. Preferring the '49 model over later versions, Ernie started constructing the Dwarf Mercury in September of 2004. The challenging shape of this car's more rounded, flowing bodywork tested Ernie's metalworking skills more than previous jobs. He had to really build off of what he had learned through prior metalworking experience to achieve the desired build.
Ultimately, though, Ernie was able to bring the car to completion. The body has fender skirts, twin spotlights, front disc brakes, roll-up windows, and a bench seat. The wheels feature baby moon hubcaps with beauty rings. In hotrod terms, the car is "nose and decked" with a Fulton-style sun visor and Lakes pipes. It's based on a 1290cc Toyota motor and drivetrain. Ernie painted the car Caribbean Turquoise and named it "Rebel Rouser"—after the Duane Eddie guitar hit from the late 1950's.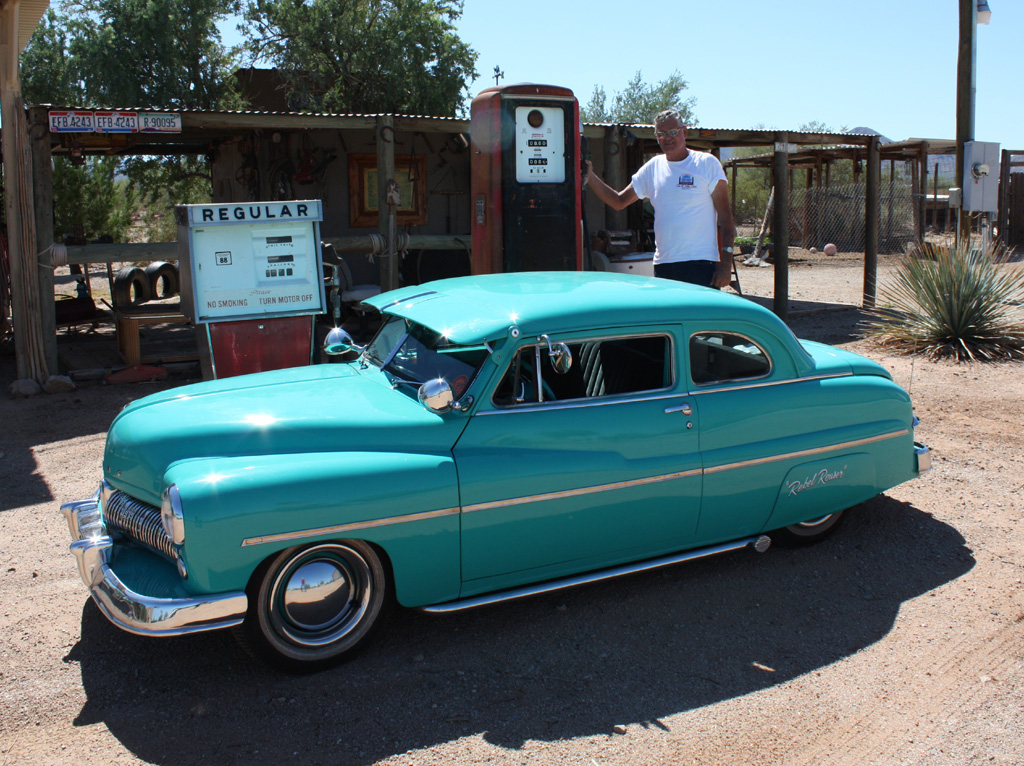 1934 Ford 2-door Sedan "Bonnie"
The famous outlaws Bonnie and Clyde finally met their fate in a stolen 1934 Ford 2-door Sedan. On May 21, 1934, the car was riddled with 130 bullet holes. Ernie's dwarf version of the car doesn't replicate the bullet holes, but the rusting body does give it the appearance of an aged and whithered machine. Even so, the chrome parts shine like new to provide a nice contrast to the rusty finish. Ernie always felt that the '34 Ford Sedan had one of the most beautiful bodies of any car. He especially appreciated the "suicide" doors, and the shape and pattern of the grill.
Regarding the car's finish, Ernie had his own reasons for building the Dwarf '34 Ford in that manner. He said, "I met a man in Lincoln, Nebraska at the Mid-Americruise car show. He had a '34 Ford 2-door Sedan. It was total rust, nice motor, and it just looked good that way." Ernie stopped the man, and said to him, "I hope you don't finish this car." The man smiled and replied, "It is finished." Ernie thought that the car was beautiful just the way it was.
Ernie's model features one chrome horn on each front fender, and a "Flying Lady" hood ornament from a 1935 Auburn. A roll-out windshield on the car provides plenty of ventilation, and the rusted spoke wheels match the rest of the body. The car is powered by a 4KE Toyota with 5-speed transmission. The body is all steel, and the car is street legal. It has hand-cranked roll-up windows, a bench seat, a louvered fold-up hood, and hand-made wheels with V8 hubcaps.